Nath Bio-Genes (India) Limited appears in Forbes Asia's 200 Best (Under A Billion)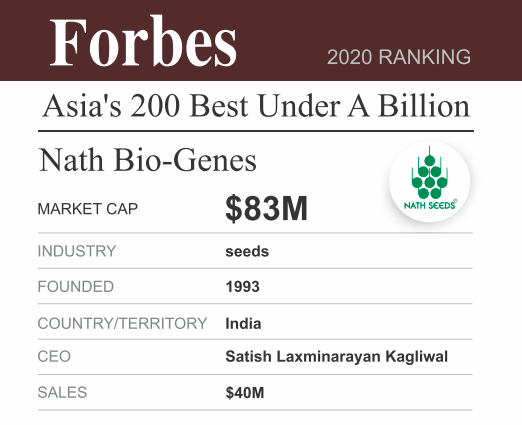 Nath Bio-Genes (India) Ltd. engages in the production and marketing of seeds. The company offers categories of seeds including cereals, fiber and oilseeds, nutritional supplements, and vegetables. The company was founded in 1993 and is headquartered in Aurangabad, India.
This story is part of Forbes' coverage of Asia's Best Under A Billion 2020 list, which highlights 200 Asia-Pacific public companies with less than S1 billion in revenue and consistent top-and bottom-line growth.
These companies have track records of exceptional corporate performance, with one Covid-19 caveat the list is based on full-year data as ofjuly7 and does not fully reflect the impact from the pandemic-led downturn.
The companies on this list have scored above their peers in a composite ranking that includes sales and profit growth, low debt levels and robust governance.
The criteria also ensured a geographic diversity of companies from across the region. By using metrics both quantitative and qualitative, the final list of 200 is truly a select group.